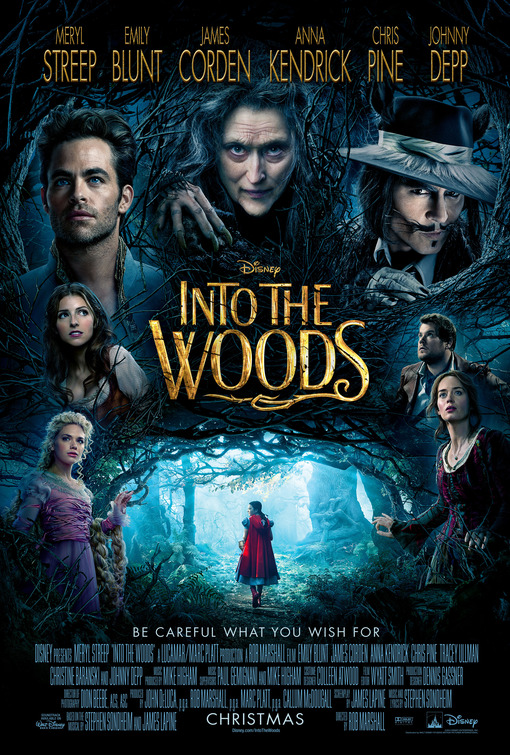 Overall: ☆☆☆
Story: ☆☆
Visual: ☆☆
Sounds: ☆☆☆
Famous fairy tales' characters, who are Cinderella, Jack (and the beanstalk), Red Riding Hood, Rapunzel living in the same kingdom. They dissatisfied with their life and they need to get a change as a wish. Unexpectedly, all of them aimed to go into the woods.
At the same time, one of a married couple organizing a bakery. They were doing well but also they have a wish. Because they couldn't make a child. However, suddenly one of mysterious wicked appeared to their bakery and she said she gave a curse to husband's father because he stole her important magical beans. She also said she cursed every family of his father ever. That is why the couple couldn't make a child. But she gave a chance to solve the curse if they correct 4 specific things in the woods. So they decided to go into the woods as well.
Every characters gathering at the woods and some unpredictable things happen.
[Review]
I'm really surprised that Disney made this film. Because its story was like an irony for the 'Happily Ever After' story like a Disney's cartoons.
However, I also wondering that the worth of this story. I believe that fairy tale is always separated from reality. I think this has to. Also, I think the unrealistic story makes us hope, and dream in our life. If all stories in the world are sort of realistic story, I guess that is so boring.
Therefore I think this story is sort of meaningless, and nonsense. I can't agree this film's interpretation. Tales and reality are not in the same world. We need a fairy tales because the reality is sometimes so terrible, and awful. We need a place to escape. That is exactly the imaginary world as a fairy tale. So I couldn't make sense of this story. Its interpretation is little bit weird and hard to understand